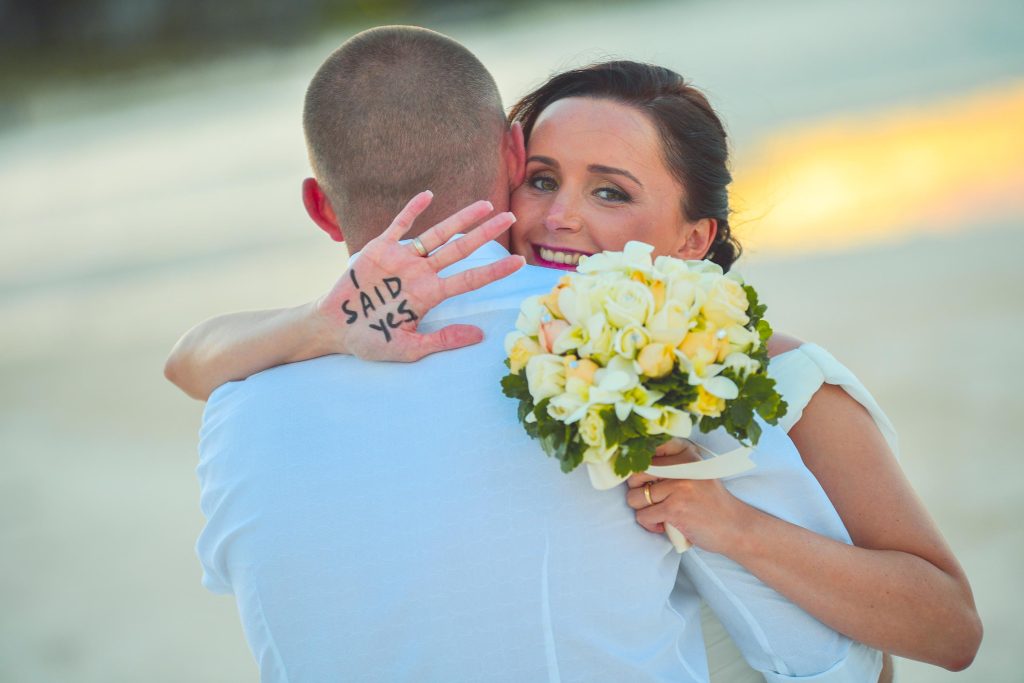 Hopefully, proposing to your girlfriend is something you'll only get to do once! Hopefully!!! Increase your chances to make that so by reading these tips on how to propose to your girlfriend.
Lawyers only ask the question if they know the answer! So should you! If you think there's a chance she's not going to say "yes" then you probably haven't been seeing her long enough!

If you're considering risking everything and proposing publicly i.e. at a ball game or in front of her family, then make sure you're extra certain she'll say yes! Otherwise you risk turning your happy occasion into the most humiliating experience of your life!

You really have to surprise the girl! Eliminate any chance of her finding out by only enlisting the help of trusted friends who can keep quiet.

Always personalize your engagement proposal! You know her better than anybody else so this should be easy. Never carbon copy an idea you read on the web or in a magazine!

Always take a knee! It's old, corny and cliche but its how she always imagined her proposal would be since she was a little girl so don't disappoint her!

Guard the ring! Don't risk losing it in some elaborate engagement scheme by burying it in sand or giving it to the Dog to deliver to her! It's not worth it!

Keep heavy eye contact! You will show confidence and she will know that you mean it!

Ambiance is the key to a good proposal! Most girls would take roses, music, food and candles over a huge ordeal in public!

Timing! If you would like a long proposal then propose in the spring! You could go for a spring wedding the following year! If you propose in the winter then it could be a very short engagement before you tie the knot!

Relax! If you've planned everything then it'll go fine! This is a big moment for the both of you so enjoy it!
What Not to Do
Before we get to the good stuff, here are a few "misadventures" to avoid when proposing marriage:
Do not trivialize the proposal. You're asking someone if they want to spend the rest of your lives together, not what they want to eat for dinner.

A marriage proposal is meant to be a special and memorable occasion for you as a couple, so don't allow relatives or friends to invite themselves along when you know you're going to pop the question.

Don't propose at someone else's special occasion, like a wedding, baby shower, etc.. First of all, it's not polite to detract from someone else's special day. And secondly, it's best to make a special day for just the two of you.

Don't put your partner on the spot, such as proposing in public in a situation where they feel forced to say yes (then privately say no).
Timing & Location
Many people have remarked that their marriage proposal was less romantic than they had hoped. Of course, the proposal makes up just a small part of your relationship, but it's still nice to be look back upon it with fond memories.
Talk to friends and family members of your future spouse to get additional ideas what your partner considers romantic. You will have some ideas as well, but it's nice to have more feedback from people who also know your partner well.
Ask for help in the romance department by calling establishments in the area and asking for their assistance. Often times they'll be willing to assist you in creating the right mood for that special moment.
For instance, if you're think about proposing in the Rocky Mountains, call a local tram operator and ask for their suggestion. They may be willing to help you arrange for a special floral arrangement to greet your partner when you reach the top… or create other ways of setting the mood. We even heard of a gent who asked the tram operator if he'd be willing to stage a false-malfunction and stop the tram at midpoint in order for the couple to have the perfect opportunity!
Costs
You can spend hundreds or even thousands of dollars on setting the most romantic of moods, but the setting depends on what you and your spouse consider romantic. Romance isn't about the amount of money you spend, its about connecting emotionally with another person and making each other feel special.